Is it just me or is the Christmas rush this year super stressful??? Time for a break! If you're feeling sad and lonely for whatever reason this season, here are four shades that will surely combat the holiday blues!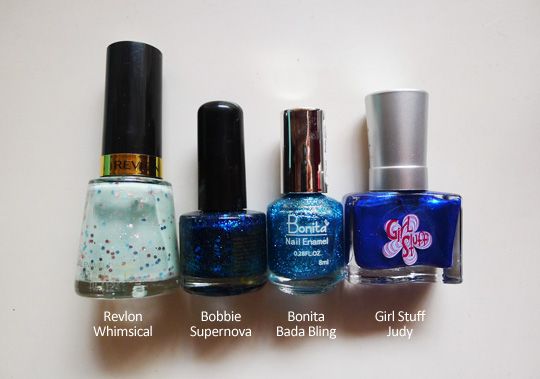 Revlon Whimsical
- A burst of cotton candy in a cloud of jelly. Did that make sense?? This is such a cute topper that's fun to layer over baby blues and pinks. You can't help but smile every time you look at your nails. Swatch is on top of Caress Cool Blue.
Bobbie Supernova
- An impressive midnight blue with chunky glitter reminiscent of the night sky. Reminds me of Deborah Lippmann's Lady Sings The Blues and Across The Universe. Definitely one of Bobbie's most unique shades.
Bonita Bada Bling - Haha that name is so funny! It's blue green glitter in a clear base. This one's definitely a topper but I like layering it a lot to cover my entire nails with the pretty glitter. Swatch is with five coats. The Rustan's Supermarket in Shangri-La carries this brand.
Girl Stuff Judy
- An electric shock of blue! Not for the faint of heart since this color is impossible to miss on anyone's nails. Would be perfect for blue year's eve as well. I found this brand at the children's department of Rustan's Makati.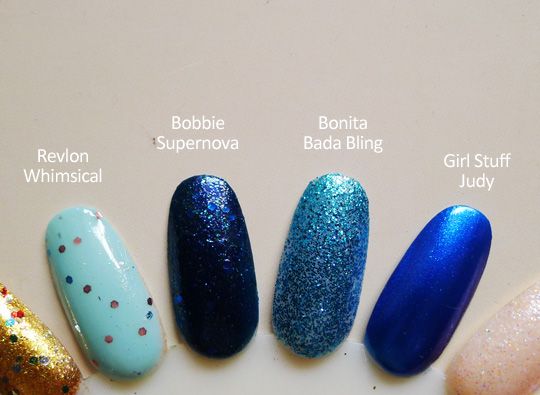 So there you have it! Who says feeling blue is bad??
Until next time! Stay polished! :)